Project Birthplace - The Children of the Void
Project Birthplace is constantly being updated, be sure to follow so you don't miss anything!
The Story:
After the events of Project Beach House, Dan and Sarah find themselves kidnapped by five eccentric visionaries, each leading a commune of people who worship outlandish creatures. All the while, the whereabouts of Dan's father remain a mystery.
Will you be the one to find your father and unite the cults once and for all?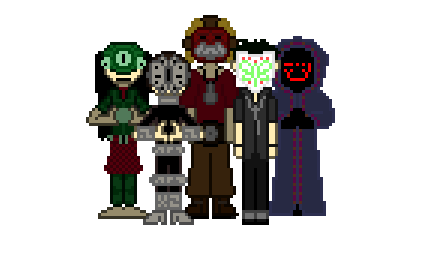 Project birthplace needs your support!
For access to beta builds, developer commentaries, and updates before anyone else, check out our patreon
Development: The Children of the Void
The game is being built one cult at a time. The first update focuses on "The Children of the Void" and their quiet coastal village. Rumors of strange winged creatures and disappearances buzz around the town as the cult's leader Francis becomes more and more reclusive.
Features:
Compact open world
Multiple endings
Branching story: no two playthroughs are alike
Complex dialogue for in-depth roleplay
Special variable arrays for an extra layer of depth
Deemphasized quests, stronger emphasis on exploration and roleplay
The Verbs:

Grab items and add them to Dan's inventory
Pick up heavy things
Move bodies

Get descriptions of objects and people
Helps if you can't figure out what to do

Open and close doors
Use an inventory item
Multipurpose, for events that don't quite work with other verbs

Deal damage to NPCs and objects
Damage varies depending on active weapon and strength

Hide in a place to avoid conflict
Stow away an inventory item to avoid it being confiscated

Give NPCs items
Equip Sarah

Use consumable items
Bite NPC's and the environment
Some verbs can only be used when certain outfits are equipped. Keep an eye out, as they're extremely powerful!